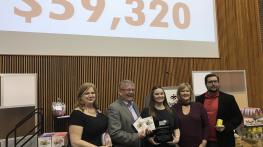 January 22, 2018, THUNDER BAY, ON – Through donations, product sales and department competitions, the students and employees at Confederation College have raised $59,320 in support of its students, the United Way and "Stock the Bank", an internal campaign in support of the Emergency Student Fund and Food Bank at the College.
"I am consistently amazed, but never surprised at how much is raised through this campaign each year," said Jim Madder, President of Confederation College. "Our College community understands the need for these supports for our students and for residents of Thunder Bay, and therefore employees and students work very hard to do their part. I am always proud to see us all come together to help our students, who are so important to us, and to help such a worthy charity as the United Way."
The United Way provides financial support to 29 local agencies making it possible for them to offer 59 diverse human service programs to members of the community. Altogether, $59,320 was raised to contribute to this important cause.
The total amount raised includes $15,130 for United Way's funded agencies, $16,940 directed to support student awards at Confederation College, and $27,250 directed to "Stock the Bank" in support of the College's Emergency Student Fund, which includes the Food Bank. Employees and students also collected 3,907 food bank items. These numbers grow the 12-year contributions for the Emergency Student Fund/Food Bank to $153,589 and over 59,000 items total. Last year alone, over 200 students accessed the food bank.
"At Confederation College, it is clear that we have big hearts and believe in building a positive community culture," said Jodi Afonso, President of the Student Union. "Thank you to all who participated for supporting a program that brings joy to our students and the Thunder Bay community."
Afonso was also pleased to share that the annual partnership between SUCCI and Confederation College earned provincial recognition from the College Student Alliance (CSA) with the Landmark Award. Awarded to a member association which has given their time and talents to contribute significantly to the CSA and its initiatives, SUCCI was by its student association peers for its efforts in the last Stock the Bank campaign.
"This award is the most prestigious to be granted by the CSA," said Afonso. "As the northern-most college, we sometimes face the unique challenges of not having access to the same resources or opportunities a larger college in a big city might. For us to be recognized by those same colleges for doing something extraordinary is a true honour. We hope our campaign inspires other colleges to establish similar campaigns in support of their students – imagine the impact that could have for students across the province."
Jodie Wilson, Campaign Director for the United Way of Thunder Bay also provided her thanks to the College for its efforts in support of students. "Through your generous donations, students will have a network of support and resources surrounding them whenever they find themselves in a challenging situation or times of distress. The old saying that it takes a village to raise a child is true, and we are honored to be a part of this village with you. Thank you so much for stepping up and making an effort to create positive change in Thunder Bay."  
Money for the three-tiered campaign was raised through events such as the Business students' upcycled product sales. Employee donations of an hour's pay and a friendly fundraising/food collection competition between departments also played an important role in the final numbers. In addition, part of the campaign saw employees direct funds to support student awards and program costs and equipment.
This year's winning departments, which are each allotted $150 to give to their charity of choice, include:
Large Team Category: Administration, which donated their prize to the Thunder Bay & District Humane Society,
Small Team Category: Paterson Library Commons, International and the Teaching and Learning Centre, which donated their prize to the Thunder Bay & District Humane Society, and
Academic Category: School of Aviation and School of Engineering Technology, which donated their prize to the Neonatal Intensive Care Unit at the Thunder Bay Regional Health Sciences Centre.
From left, Confederation College's Manager of Advancement and Alumni Relations Dana Levanto and President Jim Madder, Student Union President Jodi Afonso, United Way of Thunder Bay's Campaign Director Jodie Wilson and Student Union Director of Diversity and Wellness Thomas McDonald.
-30-
Confederation College has been serving the citizens of northwestern Ontario since 1967 meeting the educational needs of students in a catchment area of some 550,000 square kilometres. Along with its main campus in Thunder Bay, Confederation College has eight regional sites located in Dryden, Fort Frances, Geraldton, Kenora, Marathon, Sioux Lookout, Red Lake and Wawa. 
Confederation College delivers exceptional education and training to an average of 7,800 combined full and part-time students per year and currently has a total of 805 full and part-time employees. Confederation's regional economic impact and contribution is valued at $411.2 million annually.
For more information, please contact:
Ashleigh Quarrell, Communications Consultant
Ph: (807) 475-6565, Cell: (807) 632-5296, Email: aquarrel@confederationcollege.ca