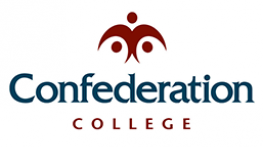 It is with great enthusiasm and excitement that Confederation College announces that students graduating from Confederation College's Aboriginal Community Advocacy Program can complete degree studies in Algoma University's Community Economic and Social Services program.
This agreement enables students completing their 2-year diploma studies to directly enter Algoma University to complete their degree with an additional two years of study.
Key elements of the agreement include students getting offers of admission into both programs when they begin their studies at Confederation College as well as access to wrap-around student support services from both institutions across all four years of study.
The agreement is currently being reviewed by Algoma University's Senate and it is anticipated that the agreement will be signing by April 2019.
Shane Strickland, Dean, School of Health, Negahneewin & Community Services, feels that this agreement was a team effort. "I would like to recognize the efforts of the Centre for Policy and Research on Indigenous Learning, Algoma University, and provide special recognition to Jana-Rae Yerxa and Emily Willson for their work on this agreement through the Indigenous ONCAT Pathway projects."