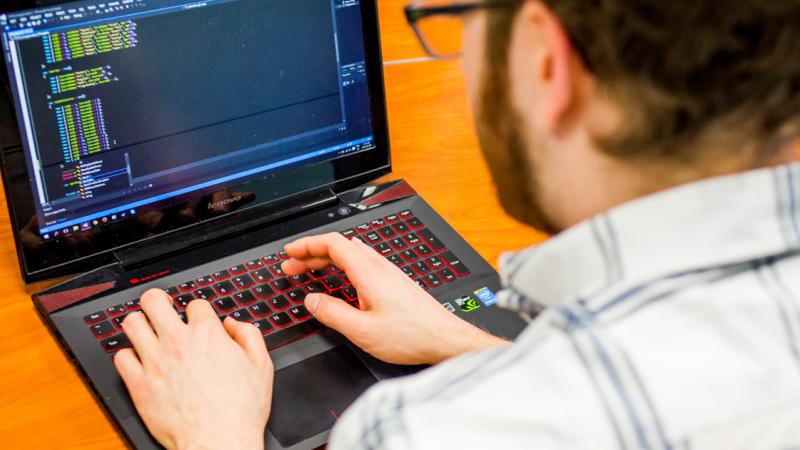 THUNDER BAY, ON, May 18, 2016 – With 100 per cent employment in their field, Computer Programmer alumni from the first graduating class at Confederation College are playing an important role in a rapidly growing industry.
The Computer Programmer program at Confederation saw its first graduates in the spring of 2015. The success seen among those graduates since Convocation is impressive.
"More than half my class was employed before they graduated and they're all employed in the field," said Program Coordinator Troy Mangatal. "Individuals with the knowledge and skills we provide through the program are in high demand. The work our graduates can expect generally comes with flexibility, autonomy and high salaries. With the way the industry is moving and the number of opportunities that are out there, now's a great time to pursue a career in computer programming."
Alumna Wendy Goulden agrees. In addition to her college placement at Health E(fx), Goulden was hired to work part-time and had secured promise of full-time employment before graduating in 2015. Health E(fx) is a software solutions company based in the United States with a technical office in Thunder Bay. Goulden has been working for the company in software development, with increasing responsibility since graduation.
"I really enjoy the work," she said. "It can come with a lot of pressure, but I like the challenge. There's lots of problem-solving – being able to see something and figure out how to get it from point A to point B given your limitations – it's energizing."
Goulden credits Confederation College with helping her to succeed in her job. She had programmed in the mainframe environment before, but after leaving the workforce to spend time with her children, she knew she had to update her skills.
"So much had changed and the environment was totally new. With the technical skills I learned, the tools we used and the languages we practiced, it was an easy transition to the workforce."
Goulden is the only female developer in her office. She wants to see more women enter the male-dominated industry so she strongly urges women to consider the computer programming field.
Though she may be the only woman, Goulden is by no means the only graduate of Confederation's Computer Programmer program working at Health E(fx). They have hired several graduates from the class of 2015 and look forward to new recruits joining the team after graduation this year. Heiko Voss, the Director of Software, explained how the office in Thunder Bay has grown from four employees just two years ago, to about 55 today.
"As the world gets more automated, more and more processes get automated, there's more need to support those automated services and therefore more need to develop automated programming," he said. "What's exciting for programmers, especially in Thunder Bay, is that technology allows them to access the market from anywhere in the world – location is not a barrier to employment."
When asked why so many Confederation graduates are being recruited, Voss cited their skills.
"The biggest factors for us when hiring are first their skill-set and then their personality and fit with our company. With Confederation College, we know graduates come with a certain set of skills and so we don't need to test those. There's always a large learning curve in our industry with so many technologies out there – you can't teach them all – but Confederation provides graduates with a solid foundation that can be built upon."
Confederation alumni are adding great value to Health E(fx), increasing capacity and productivity for the company to keep up with its growth. Health E(fx) is also working with Confederation College to help ensure the Computer Programmer program reflects industry needs.
To learn more about the Computer Programmer program, visit www.confederationcollege.ca/program/computer-programmer .  It's not too late to apply for the 2016 fall intake.
-30-
Confederation College has been serving the citizens of northwestern Ontario since 1967 meeting the educational needs of students in a catchment area of some 550,000 square kilometres. Along with its main campus in Thunder Bay, Confederation College has eight regional sites located in Dryden, Fort Frances, Geraldton, Kenora, Marathon, Sioux Lookout, Red Lake and Wawa. 
Confederation College delivers exceptional education and training to an average of 7,800 combined full and part-time students per year and currently has a total of 805 full and part-time employees. Confederation's regional economic impact and contribution is valued at $411.2 million annually.
For more information, please contact:
Ashleigh Quarrell, Media and Communications Officer
Ph: (807) 475-6565, Cell: (807) 632-5296, Email: aquarrel@confederationcollege.ca