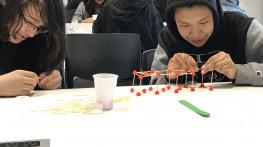 On March 20, 2019, Grade 7 and 8 students from Sherbrooke Public School came to Confederation College for a whole day experience. After an opening prayer and welcoming song in Apiwin, students were given a tour highlighting programs such as Police Foundations, Digital Media Production, Dental Assisting and Civil Engineering. They got to meet with coordinators and students currently in those programs. After lunch in Ryan Hall, they took part in 2 workshops Critical Thinking and Button Marking. Students ended the day with a travelling song and gift bags. It was a great day that built positive relationships. Our goal was not only to promote Confederation College programs but post secondary options in general.
Big Meegwetch to  Michele Mcmanus, Rob Lyon, Raquel Glavish, Leanna Marshall, Trevor Hamalainen.
And to our student volunteers Jacie Indian, Gillian English, Rebecca Sugerhead, Lee Danielson and Donald Buffet.