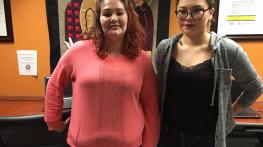 December 27, 2018, THUNDER BAY, ON – For some, the idea of going to college sounds scary. Not everyone knows what program to take. Many feel overwhelmed at the idea of going back after a long time away. The College Access program at Confederation College is designed to help students make a seamless entry in postsecondary education.
One such student on this important path is Candida Agnes Sinoway. Originally excited to go to college after earning her high school diploma, her plans changed when she found out she was going to be a mother. "I decided to wait a few years and then go to college, but here I am nine years later and finally the time was right. I took this program because it would give me an idea of what to expect during my college experience and to see what's expected in classes."
Sinoway already knows her next step following her graduation from the College Access program this spring. She plans on returning to Confederation to continue her postsecondary education. "I want to study social work and become an addictions counsellor to give back to the community," she said. "I know that I'll benefit from the College Access program as I transition into the Social Service Worker program. I think that if I'd gone straight into it, I probably would have quit in the second week because it would have been too much for me. College Access has prepared me for this next big step."
Confederation College's College Access program covers a wide array of topics to provide students with a taste of everything while helping them to develop the skills needed to succeed in a postsecondary environment.
"The program provides students with the opportunity to begin their postsecondary journey in a supportive, learner-centred environment," said Chris Pace, Coordinator of the program. "Our committed professors and small class sizes ensure students will learn the necessary skills to become better prepared for future college programs."
Graduate of the program, Tyarra Goodman, shared that it was the right place for her to begin College to succeed in her postsecondary goals. "The program helped me transition from high school to college," she said. "It helped me get organized and encouraged me to keep going forward. I often tell people who don't know what they want to take in college that they should enroll in College Access."
Goodman is currently enrolled in the Native Child and Family Services program at Confederation and it has solidified her choice of career. "I've really enjoyed working with youth and helping them find a voice," she said. "Through my program, I became involved with the Regional Multicultural Youth Centre and I've been helping Indigenous students learn to cope when then arrive in the city from their home reserves."
For more information about the College Access program and to apply, visit: www.confederationcollege.ca/collegeaccess.
-30-
Confederation College has been serving the citizens of northwestern Ontario since 1967 meeting the educational needs of students in a catchment area of some 550,000 square kilometres. Along with its main campus in Thunder Bay, Confederation College has eight regional sites located in Dryden, Fort Frances, Geraldton, Kenora, Marathon, Sioux Lookout, Red Lake and Wawa. 
Confederation College delivers exceptional education and training to an average of 6,500 combined full- and part-time students per year and currently has a total of 850 full- and part-time employees. Confederation's regional economic impact and contribution is valued at $643.4 million annually.
For more information, please contact:
Vince Ponka, Media & Communications Officer
Ph: (807) 475-6137, Cell: (807) 620-0043, E-mail: vponka@confederationcollege.ca