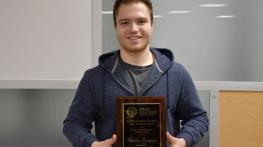 Third-year Civil Engineering Technology student Christian Palmquist recently received the Proficiency in Civil Engineering Technology Award presented by Good Roads Ontario Association.
"When I received the email that I had won, I was really excited, especially considering that I was nominated by the Dean of my department," Christian said. "It was a privilege and an honour to accept this award."
This award recognizes a student who has outstanding scholastic achievements coupled with their active contribution to the quality of campus life at the College and their co-op employment experience.
Christian will be graduating this spring and is looking forward to applying all he has learned at Confederation College when he begins his career in Civil Engineering.