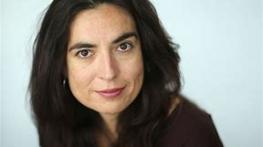 Please join us this Thursday, March, 21 from 2-4pm in the Shuniah Lecture Theatre (Room 351) for a talk by journalist and author, Tanya Talaga. Students and employees in our regional campuses can join the event using the information below.
To join, select from the following options:
1) Web Browser
2) Joining via a mobile device?
Open this link : https://primetime.bluejeans.com/a2m/live-event/axejdgfw   
Download the BlueJeans app if you don't have it already.
Enter event ID : axejdgfw​
3) Phone
Dial one of the following numbers, enter the participant PIN followed by # to confirm:
Phone number
All Cities
+1.800.520.9950 Toll free
Participant pin:
1068934 #
  Joining from outside the US? https://www.bluejeans.com/numbers/primetime-attendees/event?id=axejdgfw
---
An award-winning journalist and author, and the first Ojibway woman to deliver the CBC Massey Lectures, Tanya Talaga is an acclaimed storyteller. Her book Seven Fallen Feathers, a national bestseller won the 2018 RBC Taylor Prize. Tanya shares Indigenous stories from across Canada and the world, humanizing the legacy of cultural genocide and sharing her hope for a more inclusive and equitable future.Tanya is also the bestselling author of All Our Relations: Finding The Path Forward.
For the past 20 years, Tanya has worked as a journalist, and more recently, a columnist for The Toronto Star.  She has been nominated five times for the Michener Award in public service journalism. From 2017-2018, Tanya was the Atkinson Fellow in Public Policy through The Canadian Journalism Foundation.
In addition to the RBC Taylor Prize, Seven Fallen Feathers also won the Shaughnessy Cohen Prize for Political Writing, and the First Nation Communities Read: Young Adult/Adult Award. It was also a finalist for the Hilary Weston Writers' Trust Nonfiction Prize and the BC National Award for Nonfiction, and was named CBC's Nonfiction Book of the Year and a Globe and Mail Top 100 Book.
In addition to the CBC Massey Lectures — a renowned lecture series that travels to cities across Canada — Tanya has also spoken to diverse audiences ranging from university students and schoolchildren to corporate and non-profit organizations.