Confederation College is located in Thunder Bay, a mid-sized Canadian city located in northwestern Ontario. It's international airport includes more than 25 direct flights from Toronto every day, connecting with both Pearson International Airport and the Toronto Island airport.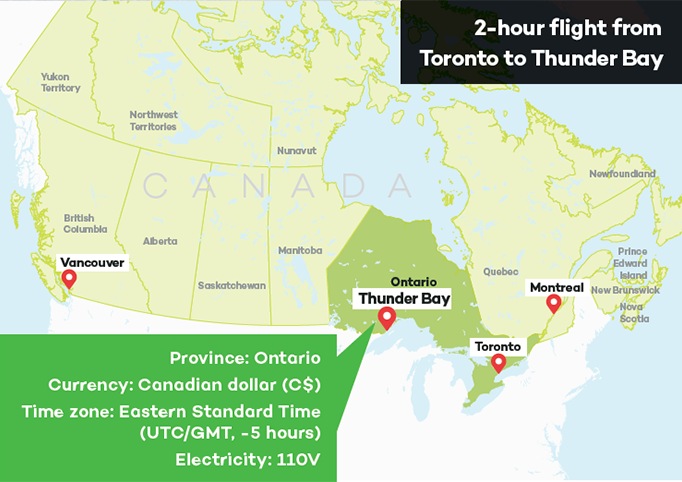 Travel to Thunder Bay:
Thunder Bay is a short 2-hour flight from Pearson International Airport in Toronto, Ontario.  Students should fly from Toronto to get to Thunder Bay; it is too far to drive.
Students should book their connecting flight before leaving their home country. This will ensure the most economical air fare and will also demonstrate a clear travel itinerary, when clearing customs and immigration. Students should watch the airline websites for seat sales.
Airlines:       Air Canada    ||    WestJet
Thunder Bay has a reputation as one of Canada's best outdoor cities with spectacularly fresh and clean air, the world's largest fresh water lake right beside the city and endless natural beauty. At the same time, residents in Thunder Bay have convenient access to a wide variety of great restaurants, shops and entertainment options.
Across all four seasons, the region offers plenty of opportunities to experience Canada's greatness from geocaching to geology, canoeing to sailing, fishing in all seasons, hiking, jogging, running, skiing, snowboarding, cycling and much more. Adventure abounds under blue skies in a city with more hours of sunshine than most others in Canada!
Located in the heart of Thunder Bay, Confederation College is proud of its beautiful campus, known for its green space, hundreds of established trees, and the McIntyre river that runs through it. Bicycle and walking paths crisscross the campus, linking students and residents to key spots within the city. It is not uncommon to see deer nibbling grass, Canadian geese preening themselves, and the odd fox making its way home.
Overall, we know you will have a memorable educational experience!