Welcome to the Leadership Development portal!  The purpose of this site is to centralize as much leadership-related material as possible so that any College employee can access it anytime/anywhere.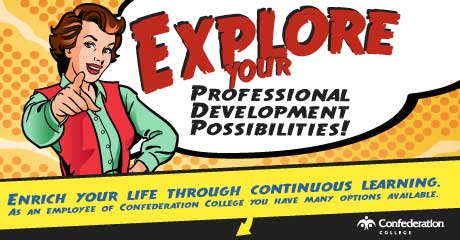 We are taking a multi-faceted approach to leadership development at Confederation College – some of it will be formal and we hope a great deal of it will be informal; as we say 'organic'.  By that we mean that each of us will undertake a leadership development journey at our own pace and in the direction that most suits each one of us.
We'd like to support everyone in whatever way possible.  For example, we offer whatever support we can to employees with similar interests who want to develop a leadership program.  We invite your suggestions for speakers, courses, and so on and encourage all of you to add information to this site.
Explore Your Professional Development Possibilities
Interest free tuition loans
Confederation will reimburse you 50% of tuition costs upon success
College courses at a cost of $20.00

(Most College courses are available for a $20.00 fee plus books and supplies) (see policy 4-3-03)
Time off for school

(Refer to your collective agreement)
PD Leave available

(Refer to your collective agreement)
And don't forget your personal spending account
View PD Policies related to Education & Professional Development (Section 4-3) …
Leadership Development
The Chair Academy - Worldwide Leadership Development For College and University Leaders
CICan - Colleges & Institutes Canada
Courses
Joint PhD, Educational Studies: Brock University, 
Lakehead

 University & University of Windsor

 
Presentations
External Job Opportunities