You are here
Tim Matthews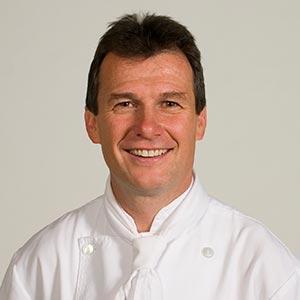 Program Coordinator, Certified Chef de Cuisine
Tel:
(807) 475-6529
Tim Matthews grew up in a small coal mining village in Yorkshire, England. While attending school, he worked weekends peeling vegetables at Monk Fryston Hall, a small hotel nestled in the countryside. This early exposure to kitchen life developed into a passion for cooking.
Tim took his apprenticeship and attended Thomas Danby College in Leeds in the north of England. At the age of 18, Tim had his chef's papers and landed a job working for Silvano Trompetto at the prestigious Savoy Hotel in London. After 2 years working with 120 chefs and 4 departments of the Savoy kitchen, he got the opportunity to work in the pastry shop at the Hotel Kempinski in Berlin. He entered a pulled sugar display at the Berlin Culinary Salon in 1978 and won his first gold medal. After one year, Tim took a chef du partie position at the Loews Hotel in the south of France and a junior sous chef position at the Sheraton Hotel in Stockholm, Sweden.
Tim came to Thunder Bay in 1980 and worked at the Airlane Hotel as a dining room chef and with C.P. Hotels as executive chef. In 1986, he joined the hospitality team at Confederation College and coordinated the Culinary Management Program.
In addition to being a Certified Chef de Cuisine and earning his chef's papers in England and Canada, he is a graduate of Confederation College's Culinary and Hotel Management Programs. He also has a degree in Business Administration. Tim has received recognition for chef of the year in 1991 (association of Chefs de Cuisine) and he has received a recognition award for outstanding service in 1996 (Confederation College).
In May 2001 and May 2008 Tim was awarded the NISOD Teaching Excellence Award from the University of Texas and Confederation College's Faculty Award for Excellence in Teaching and Learning.
Tim had a weekly cooking show on CBC radio for 21 years and has written over 500 articles on food preparation and cooking. In his career, he has won 13 gold medals and a number of challenge trophies for his outstanding food exhibits in Germany, Ireland, the United States and Canada.
Check out his latest cookbook "Flavours of Northwestern Ontario"
Program(s)