You are here
Dr. Michael Scarcello, DNP, CNS, RN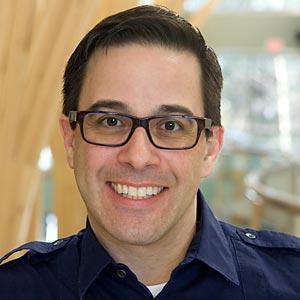 Program Coordinator, Practical Nursing & Personal Support Worker Programs
Tel:
(807) 475-6426
On behalf of Confederation College, welcome to the Practical Nursing Program. My name is Dr. Michael Scarcello – faculty member and Program Coordinator for the Practical Nursing Program for both the Thunder Bay and regional campuses. I have had the pleasure of working with students at the post-secondary level since 2005. I have taught throughout all semesters and years of the Practical Nursing Program, with a particular interest in course work pertaining to acute care nursing.
My Background
My first experience in the health care system was in the Ontario Hospital system and as a Nursing Assistant, caring for those with acute and chronic mental health challenges. At the same time, I worked in the long-term care sector, caring for older adults requiring continued and complex nursing care. Working as a Nursing Assistant provided me with invaluable skills, which I took to my career in nursing – both at the bedside, in advancing the nursing's practice agenda, and most importantly in the classroom.
I have been a Registered Nurse for 18 years – particularly in the emergency department, the interventional cardiology department, and in aeromedical transport requiring advanced cardiac life support. When I first graduated from nursing school, I worked on various medical nursing units, in neurosurgery, with staff development, on acute and chronic mental health units, in complex chronic care, and in hospice/palliative care. Maintaining a current practice at the bedside and in acute care, allows me the opportunity to bring relevant experiences to the classroom and to be on the cutting edge of current clinical practices.
Most recently (class of 2018), I graduated from Saint Scholastica (Duluth, MN) with a doctoral degree in nursing focusing on quality improvement initiatives as they pertain to older adults and following a surgical experience. Prior to this, I obtained a Masters of Nursing degree (Clinical Nurse Specialist) also from Saint Scholastica (Class of 2009), where my thesis focused on older adults and acute disease. Initially, I graduated from Lakehead University (Thunder Bay, ON.) with an Honours Bachelor of Science in Nursing (Class of 2000) and went on to successfully obtain my Certificate of Competence to practice as a Registered Nurse in Ontario. As a duty to my profession, I have been involved in the publication of articles, and was an invited speaker at the Thunder Bay Regional Health Sciences Centre's Nursing Week Conference (2018) and at the Midwest Nursing Research Conference (Cleveland, 2018).
For me, nursing and nursing education remains a calling – a privilege. I hope you will consider either the Practical Nursing Program here at Confederation College.
Program(s)