You are here
Matthew Villella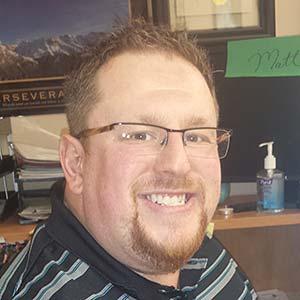 Professor
Tel:
(807) 475-6301
How/Why, I Became a Teacher
I have always had a great deal of respect for educators and really appreciate how much of influence they can have on people's lives.  One of my favorite teachers was my geography teacher back in High School.  He made the subject so interesting and fun.  When I had to decide what I wanted to be when I grew up, I choose to go the teaching path/geography path.
What I Like Most About Teaching
Helping people on their lifelong journey.  Watching students grow in their learning and helping them with confidence.
My Educational Background & Qualifications:
I graduated from Lakehead University in 2005 with a BA (Geography)/ and B.Ed. I have five years experience teaching in the high school level and six years here at the college level. I have a wealth of experience with curriculum development and facilitating workshops from my work experience at YES Employment, Toastmasters and public speaking seminars around the community.
Currently completing Masters of Education from Lakehead University-completion December 2018.
14 years experience working as an Employment Counsellor at YES Employment Services helping clients with job searching and job maintenance.
Awards & Recognition
2018 Northern Ontario Visionary Award Top 20 under 40 Community Champion
2018 Distinguished Toastmaster
2016 Service Award for Easter Seals
2016 Part Time Faculty Award for Excellence Confederation College
2015-2016 Toastmaster of the Year Division A, District 6
2014 Exceptional Achievement Award from the City of Thunder Bay
2014, 2016 Nominee for Shift's (Thunder Bay's Young Professionals Network) Top 20 Under 40 
Relevant Experience in the Field
6 years experience teaching at Confederation College with various Tourism, Travel and Eco-Adventure Courses, teaching general electives
5 years experience teaching elementary and high school level
14 Years experience working at YES Employment Services helping people find jobs and career goals
Certificates:
Smart Serve Facilitator
TICO Certified
Bawaajigan Certificate
Safe Talk Certificate
Canadian Specialist Program
My Hobbies & Other Interests
I love to learn, travel, watching movies, volunteering, writing a speech, delivering a speech, researching curriculum, humour, food and family.  
Insight or words of advice regarding this program
Travel and Tourism is one of the fastest growing Billion Dollar industry. Travel is a fun, interesting concept that has many different layers. When people talk about travel, most people do not consider all the factors that exist within the travel industry. Learning is a powerful tool and one thing I can promise is the amount of information you will learn from this program is endless.
Insight, or words of advice regarding career opportunities in this field of study
If you explore the travel industry, you realize the opportunities are plenty. You just need to be able to think outside of the box. The travel industry appeals to almost any type of career. If you are interested in a desk job, working as an interpreter at a historical site, perhaps on an airplane as a flight attendant or a pilot or interested in traveling the world, there are opportunities for you.
 
Program(s)