Our Dryden Campus, the fifth and final campus stop in the western leg of our campus journey is located in the modern, multipurpose Dryden Regional Training & Cultural Centre, right across the street from the Dryden High School.
When you enter the front glassed-in atrium and look up, you are greeted by an incredible artistic stained glasswork suspended from the high ceiling. The art represents the birth of a butterfly from chrysalis, evolving gradually into finished butterflies at the far end. This symbolism is very appropriate for depicting life, and one's educational journey. It symbolizes what the centre does for the Dryden community…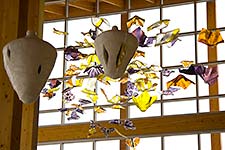 This article is part of a series entitled "Know Your Regional Campuses" (KYRC) - Dryden Campus … an opportunity to become more familiar with our regional campuses, some of the people who work there, and the unique communities in which they reside, along with a little history of the area.
| | |
| --- | --- |
| Dryden Campus office Entrance |   |
The hallways are decorated by an extensive Indigenous Art collection.
Lobby
Dryden Performing Arts Centre

Auditorium right next door
Dryden Performing Arts Centre
also used for Convocation
Also incorporated into the multipurpose facility is a large performing arts theatre/concert hall, with moveable seating at the back that can be transformed into a reception hall for social functions. Our college convocation takes place in June in this versatile facility.
Paramedic Program
Paramedic instructor, Joan Dykes, and students went through a complete "emergency simulation" which produced many great images that will be useful for promotion and training purposes.
 

 

 

Student Jeremy really appreciates the smaller class sizes to get more "hands-on-training," compared to other institutions he was considering.
Linda
Paramedic Student

Jeremy
from southern Ontario
| | |
| --- | --- |
| High-tech mannequins used by the Paramedic & Nursing students |   |
In talking with several students, I learned that one came all the way from Southern Ontario to take the Paramedic program at the Dryden Campus because of the low student-to-teacher ratio and the smaller class sizes which leads to increased hands-on learning.
Early Childhood Education Program
Barb Buffett
ECE Faculty

(front row, l to r) Deena , Valerie-Ann , Carleen
(second row, l to r) Andrew & Mary
Town of Dryden
Dryden is the "smallest city in Ontario." It was originally founded as an agricultural community. Parts of the town are historic, while other parts, such as the area located behind the Dryden Regional Health Centre, are very new. The major employers in Dryden are the City of Dryden, Domtar, healthcare and education organizations. The mill has recently invested in a fully-equipped, state-of-the-art training facility that Angelina is looking to partner with to use to offer some new high-skills training courses in the near future.
"Max the Moose"
the city's mascot

New Suspension Bridge, opened Fall, 2009, named after Roy Wilson for his city revitalization efforts.
Major tourist attractions include "Max the Moose" and a new walking suspension bridge overlooking the river that runs though downtown. Dryden is home to the Nationally Televised "Shaw Walleye Masters Tournament" and has recently hosted the In-Fisherman Professional Walleye Trail (PWT) Can-Am Challenge in addition to other PWT events. In addition, Dryden hosted the 2010 Canadian Masters Windsurfing Championship. Dryden also hosts an annual Windsurfing Regatta, among many other spectacular events. In 2011, Dryden held a grand opening for a new baseball complex, as well as lighting for the ball diamonds. These improvements have brought Dryden's ball park up to a level which would allow it to host a wide variety of upper-level ball events and large-scale tournaments. Of course, Dryden is nestled in the great Canadian wilderness and is home to, as well as a great access point to a variety of parks, lakes, and more. Enjoy great fishing, snowmobiling, hiking, biking, and more!
Dryden Yacht Club
at early dawn

Walking along the Riverside walkway in a new subdivision behind the hospital
Dryden Regional Health Centre
(DRHC)

Entrance - Dryden Regional Health Centre
| | |
| --- | --- |
| Aboriginal Art - Front Lobby - Dryden Regional Health Centre | Front Lobby - Dryden Regional Health Centre |
\

Dryden High School

Domtar Mill - Dryden
| | |
| --- | --- |
| Turn off for the Downtown area | Dryden Downtown sign |