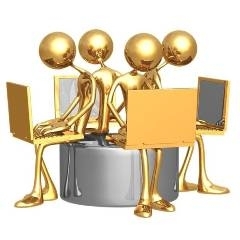 Welcome to online learning! Online learning provides a flexible way of taking courses. You can study where you want, when you want. Each online course is accessible 24/7 and has a schedule with deadlines to ensure you progress smoothly through the course week by week. Click the links below to find out more about online learning options.
What is Online Learning?
Instead of taking courses in a traditional classroom setting, online learning involves taking courses online on your computer. This offers flexibility to complete a course anywhere there is an internet connection and at any time of day.
Confederation Online and OntarioLearn courses have schedules that students are responsible for following. The schedules assist with course progression week by week. Each online course also has an instructor who helps to guide students through the course. Instructors are available to answer questions, encourage discussion on course topics, and provide feedback.
Online courses are hosted on web-based learning systems, such as Blackboard or Moodle, which are designed to make it easy to navigate through course material. These systems have different tools to support learning, such as videos, modules, discussion boards, journals and more. Each online course will be different because of the different tools available.
Some online courses may have assignments or exams. Assignments are usually submitted online through the course. Exams that require proctors can be completed at the Testing Centre at the Confederation College Thunder Bay campus or at a distance through other proctoring sites.
Overall, students taking online courses must be self-motivated and committed as it is their responsibility to meet deadlines on the course schedule. To find out if online learning is right for you, take the quiz at the following link: http://www.ontariolearn.com/are-you-ready-for-online-learning/