New Building Now Fully Enclosed – Project on Track for Completion in Spring 2018
December 15, 2017, THUNDER BAY, ON – Alongside project partners and supporters, Confederation College celebrated an important milestone Friday. Its Technology, Education and Collaboration (TEC) Hub, currently under construction, is now fully enclosed signaling significant progress on the project with the building on track for its scheduled completion in the spring of 2018. Programming in the new facility will begin in the fall of 2018. As part of the celebration, project funders were treated to an inside look at the construction progress with a tour of the building.
The TEC Hub will contribute to the development of a skilled, employment-ready technology and trades workforce for northwestern Ontario. It will also host vibrant research, incubation and technology transfer services to support the region's advanced manufacturing, technology and resource sectors.
An extension of the existing McIntyre Building at Confederation's Thunder Bay campus, the $19 million project is creating a 45,000 square foot space, which includes three main clusters: industry skills and sustainability instruction, advanced manufacturing technology, and innovation and incubation.
The design-build contract for the TEC Hub was awarded to a joint venture between Penn-Co Construction Canada (2003) Limited (build) and Stantec Architecture Limited (design). Colliers Project Leaders was hired by the College to lead project management.
The new facility will support the College's engineering technology programs, welcome the Aerospace Manufacturing program, currently located within the school's Aviation Centre of Excellence, and provide pathways for skilled trades programming, specifically for Indigenous learners. All of this will lead to the ability to support more students through learning and will open the door for new programming to be developed as industry needs continue to evolve.
The TEC Hub will also create important opportunities for collaboration, inviting community partners to participate in research and development, and offering space for regional groups and individuals to pursue their own projects. Fostering innovation and entrepreneurship will be a cornerstone of the new facility.
The $19 million project has received funding from the Government of Canada through the Strategic Investment Fund, the Province of Ontario, the Northern Ontario Heritage Fund Corporation, the Thunder Bay CEDC and Confederation College. For more information, visit www.confederationcollege.ca/TEC-Hub.
---
Kiwanis Club of Thunder Bay makes donation to Student Awards
December 14, 2017 THUNDER BAY, ON The Kiwanis Club of Thunder Bay presented a cheque to Confederation College for $2000.00 towards the Kiwanis Club of Thunder Bay Bursaries on December 14th, 2017. This year's donation will establish 5 Entrance Awards to be given to students entering the Early Childhood Educator program and the Child and Youth Worker Program.
Confederation College encourages the success of our learners and awards like these can help our students in times of financial need, especially starting their school year. The continued support of our donors has helped Confederation College to give out over $400,000 in awards each year to our deserving students. We look forward to congratulating this years recipients of the Kiwanis Club Bursaries and wish them all success in their studies this year. Once again, thank you to Kiwanis Club of Thunder Bay for supporting Confederation College, which enables us to change lives through learning. 
​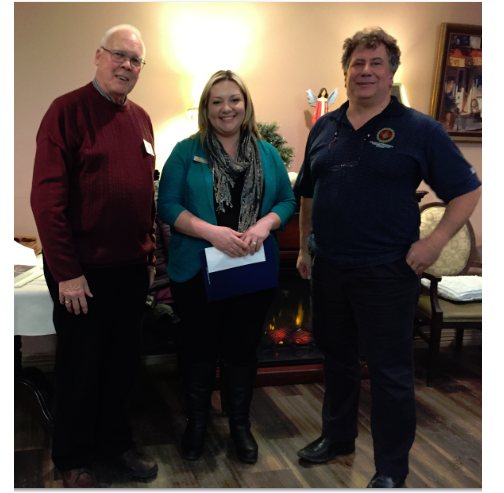 Don MacDougall Kiwanis Club representative (left) Alyssa Veneruzzo Confederation College Advancement Officer (Center) John Zahn Kiwanis Club representative (right)
---
Aboriginal and Northern Learners to Benefit from Expanded Award Criteria at Confederation College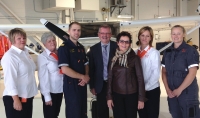 October 15, 2015, Thunder Bay, ON – Today, Ornge and Confederation College announced an expansion to Ornge's award criteria to help more students studying at Confederation. The bursary supports Aboriginal and northern Ontario students enrolled in programs related to aviation, health and community services. As many as 15 students will be eligible to receive up to $1,750…
"Ornge has been an important and long-time supporter of Confederation College," said President Jim Madder. "We are extremely grateful for their continued contribution. Broadening the award criteria will mean supporting more of our learners in the north by providing resources vital to their success. Many lives will be saved or changed once these students graduate and enter the workforce."
The Ornge-AgustaWestland Endowment Fund for Northern and Aboriginal Learners was first established in 2010. In addition to the bursaries available to current Confederation students, 10 entrance bursaries of $1,000 each will be awarded to up to 10 incoming students each fall. Incoming students who demonstrate financial need and achieve a minimum 75 per cent average in their final high school year are eligible.
"The expansion of the award criteria provides Aboriginal and Northern Learners with more opportunities to pursue their dreams," says Patricia Lang, a member of the Ornge Board of Directors. "Through this fund, Ornge is very pleased to encourage students in aviation, healthcare and community services to work hard so they may serve their communities and continue to meet the demand for a skilled workforce."
Students will be able to apply for the award starting this fall. Full details surrounding the award criteria will be available on the Confederation College website. See the backgrounder for the list of eligible programs…
Confederation College President Jim Madder (centre) with Ornge Board Director Patricia Lang (third from right) and Ornge employees celebrate the expansion of Ornge's award criteria to support more Aboriginal and northern learners
---
Charitable Registration Number 106966427 RR0002